A Day Out At Urban Stitches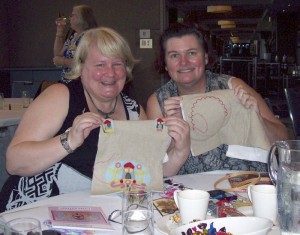 Sam & I enjoyed a fun day of stitching when we went to Urban Stitches at Darling Harbour in Sydney on March 24th.
This event is regularly staged in Victoria which is the home state of Rosalie Quinlan , Melanie from Melly & Me and Jodie from Ric-Rac however today was the first time they had moved the event over the border.
The outing included fully stocked kits from which to work, delicious food and best of all the generosity of the presenters with their time and their skills.