Published In 'Decorative Country Threads'
Last year, I was contacted by the team at Decorative Country Threads to ask if I would be interested in being interviewed for the magazine.
It was such an encouragement to be asked and earlier this year, in the Vol 16 No 1 edition, my interview was featured along with some photos of my craft both current and past. You can find out who inspires my crafting journey as well as the various crafts I have attempted over the years.
Dreamers Markets – Christmas – 2014

We will be back for the final Dreamers Market of 2014.
If you are looking for a unique, handmade, quality gift this is the place to come.
You get to meet the artisans, chat to them about the products and can be assured you are buying something you won't find just anywhere.
These markets are growing in popularity as customers return to find that special one off gift for family, friends or themselves.
Don't forget to pop by and say hello on November 1st between 9.30 – 2.30, Riverside Theatres Parramatta, look for us inside the covered atrium area.
New "Sewing The Seasons" Blog – Now On Line

Really excited to announce the launch of my blog, it's on line at  www.sewingtheseasons.com.au
Feel free to drop by for a look!
This is the place to keep up to date with my crafting activities, adventure, outings, ideas, favourite recipes and reflections on life. I will share handy tips, new patterns and projects and more of the day to day sewing that takes place. Sewing the Seasons – the joy of sewing while navigating the seasons of life.
Christmas At Home With Us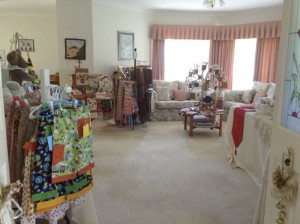 Aside from the stock itself, one of the best features of our "Christmas At Home" shopping experience was the ability to avoid parking queues at the shopping centres.
Sam and I had the pleasure of hosting this event for the first time and we were extremely pleased with the response from those in attendance.
By allowing those who came to purchase Christmas gifts straight from our home they were able to make their choices while enjoying a cup of tea in a relaxed, no pressure atmosphere…. stay tuned for our next "At Home" event.