The Elm Tree – Handmade Australia – Pop Up Shop Open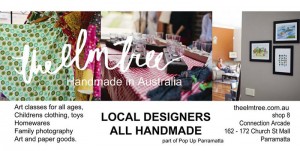 Increasingly popular over the last few years the "pop-up-shop" is finding its way into so many new retail opportunities. Now "The Elm Tree" has brought this exciting sales arena to the world of handmade goods.
Always looking for new outlets Arjay Creations elected to make their first venture into the pop-up world of selling at this event being held in Parramatta during the spring season of 2013.
Unlike traditional markets the goods are availabe throughout the week without needing the constant attendance of each individual creator. You can Click Here to read about their retail storefront.